meal delivery service + the best grocery store this side of the world
If you, like me, love food but have zero time to cook during the week - more often than not, you probably press a button and get someone to bring your food to you. It may feel like that and the prepared foods section in the grocery store are the only options - but I want to share one of the best discoveries I've found. It will cost you a pretty penny, but the quality of food is unbeatable.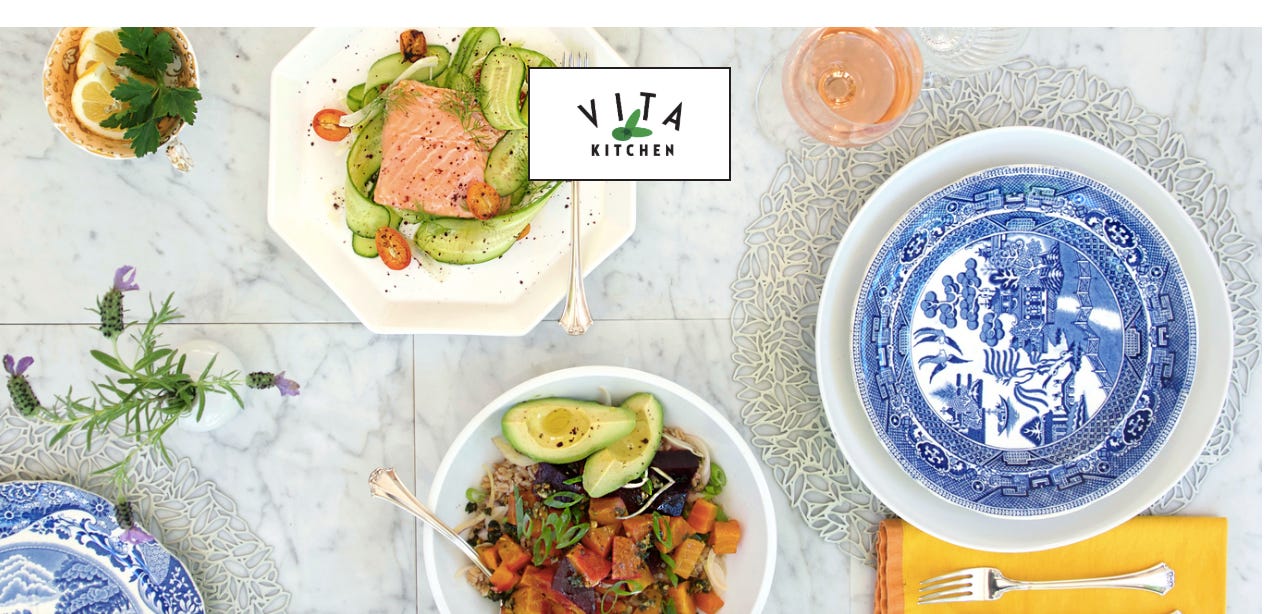 Chef Elyse of Vita Kitchen offers subscription-based East Bay meal delivery on a weekly basis. Everything is scratch-made from local, seasonal ingredients and customers receive a personalized weekly menu with a variety of global cuisines in glass containers, ready to re-heat and eat. Whether its wild salmon burgers with tarragon aioli or pork carnitas - Elyse brings a clear culinary skill to every cuisine type. And best of all, the food is incredibly healthy, well-portioned and beautifully presented. I'm a huge fan and wouldn't have gotten through the first few months of having a child without it. Elyse also offers catering for private events. Check it out.
Now if you do have time to cook - let me tell you about The Best Grocery Store This Side of the World:
When I was 15 I got my first job working as a cashier in the grocery store. I was wide-eyed and extremely excited to have the freedom of a job (and the paychecks that came with it), so I brought my A-game to the store every day. I worked at a place called Wegmans, which is consistently ranked as one of the best places to work in America and the best grocery store, well, ever. They trained us remarkably well, with lessons on how to bag quickly and in a way that was like a game of tetris to protect fragile foods and optimize space. Plus they had computers analyzing how many items we scanned a minute and would publish the results in the break room. I'm extremely competitive, so I got very fast at scanning and bagging. This speed, coupled with the fact that my grandfather would come in regularly and write customer comment cards about what a delightful person I was, led to me quickly being named Employee of the Month. As part of this honor, I was awarded a parking spot for the month, despite the fact that I was not yet old enough to drive.
So, I'm telling you all of this partly because I want to brag about being excellent at my job, but also because I want you to know that my bar for grocery stores is extremely high. Not just because I'm proficient in the art of grocering myself, but because I grew up only knowing the level of quality and service of the best grocery store in America.
But now, a couple of decades later I'm here to tell you I found an even better store. Like Wegmans, it's privately-owned and family run. This one is called Diablo Foods and its in Lafayette. But there is only one Diablo, so I'm still not actually sure how Wegmans managed to scale this level of quality to 99 stores - so I'll let Wegmans keep the title of "best grocery chain" but Diablo is hands down, the best single grocery store ever.
Here's why:
Let's start with the service. The staff is so unbelievably helpful and kind and it all begins before you even set foot in the store. As you pull up to Diablo you'll be waved in by a smiling employee who happily helps direct cars in and out of parking spots to make it quick and easy to get where you're going without tapping someone's bumper.
Then on your way in, you'll first pass through the floral shop - with abundant, rare and beautiful blooms - the staff will cut and assemble a customized bouquet for you - or you can pick one up pre-made. You can talk to the florist on your way in, do your shopping, and they'll have it all ready for you when you leave.
Next, the liquor department. Right across from the milk and eggs they have a wide and well-priced selection - and when it comes to wine, they feature curated, high quality boutique vintages, plus trendy roses and whites, a tasteful array of Japanese and American Whiskey and rare seasonal beers. And if you're having a party, the store is stocked with accoutrements (umbrellas, straws, every little random cocktail-y thing you might need). They have an unbeatable curation and two very friendly and knowledgable Somms (one who specializes in spirits, the other wine) to help out if you're not sure exactly what you want.
Inside the main grocery department you'll find that they have everything you could need for your home. The store is small, so I have no idea how they're able to carry such breadth and variety, but they have all the flavors and foods you might want, like those giant inca corn pops, unusual but useful ingredients like pomegranate molasses, and specialty items like gluten-free pie crusts. Diablo is a chef's dream - but its also a lazy-persons dream as well as they offer a good mix of prepared foods, including a full salad bar, and pre-packaged, pre-cut fruits and veggies and charcuterie platters, meatballs, tamales, burritos — plus a deli sandwich counter (with a frequent customer rewards card), all the cheeses you can ask for, and some really delightful freshly made dips (my favorite is called Roma is Burning). They also have all that other random stuff you might need - cookbooks, birthday cards, even aprons and disposable flatware and storage containers.
The butcher shop is world-class with grass-fed local meats, hand-trimmed to your liking, plus a wide selection of seafood, and a freshly-made sushi stand. They really pack it all in, so you can one-stop shop your whole weekend in one store.
Once you've got everything you need, you'll see that the cashiers and baggers at Diablo know how to bag, and they do so quickly. There is almost never a wait at the checkout line - as someone will rush to unload your groceries for you as soon as you approach the conveyor.
Meanwhile — I'm convinced that there is a carbon monoxide leak in my local chain supermarket because unlike Diablo where they have a sense of urgency and respect for the customer — at this mega mart everyone is moving at a snail pace, only two registers are open, the lines are a mile long, and they're not even bagging the groceries. I don't know what's happening in there but I hate it and sometimes think about applying for a job just to take the place over and get everyone trained properly and excited to go to work.
Anyway - back to Diablo. This place is not cheap, its definitely a bit bougie but the experience and quality is totally worth it if you can swing it. They have by far the kindest, most generous staff I've ever encountered - employees stick around for decades. I recently asked one extra friendly, long-time staffer why everyone is so damn nice there and he credits the owners and how they generously take care of their employees. This kindness permeates the entire organization and makes for the best group of people.
They'll give your kid a free balloon, they'll give *you* a free coffee and they'll carry your groceries to your car. I can't think of a better grocery experience in the east bay or the east coast.
And that's it.
Looking for more places to shop? Read about local food halls and farmer's markets