sunday supper
Today is Easter and it seems like everyone on social media is going extra hard at mom-ing right now with very elaborate holiday set ups, which I don't know how anyone had time for between work and homeschool - but more power to ya if you got it done.
I'm sure some of you are pulling together fancy hams and whatnot for dinner too, but if not, here are some local businesses to support tonight, tomorrow, soon and for the rest of our lives:
Californios is one of my favorite special occasion restaurants in SF - Sophie Hau and Kaylin Lloyd from the team over there have started the Wool Street Supper Club where they're offering meals from world class chefs delivered to your door for $25 (sample menu here). They deliver in SF and just this week added Oakland and Berkeley to the radius. Place your order two days ahead of time.
If you haven't already, its time to stock your freezer. El Sur in San Francisco is selling frozen Argentinian Empanadas, if you order 24 ($120) they'll deliver for free anywhere in the Bay. My friend Johnny posted his empanada haul on the socials and I knew I needed to have some and they did not disappoint - super easy to heat and so flavorful.
The Hideout in Lafayette is offering a daily grab and go menu with changing comfort-food items like honey fried chicken, short rib stew and ziti and cheese. Check their social media or give them a call 925-900-8861.
Temescal's favorite pizzeria Pizziaolo is offering a roast chicken sunday dinner for four ($150 with sides + dessert). Their pizzas are the best, order double so you have leftovers. But not only are they offering their dinner menu, they're also running half a grocery department. Not the first place I'd expect to be stocked with toilet paper, but they were! Order from their extensive online menu, or head on over to grab your pantry staples like flour, milk, coffee, olive oil and butter. They're also selling pre-made foods like granola, pasta sauces, pizza dough, salads, and so much more.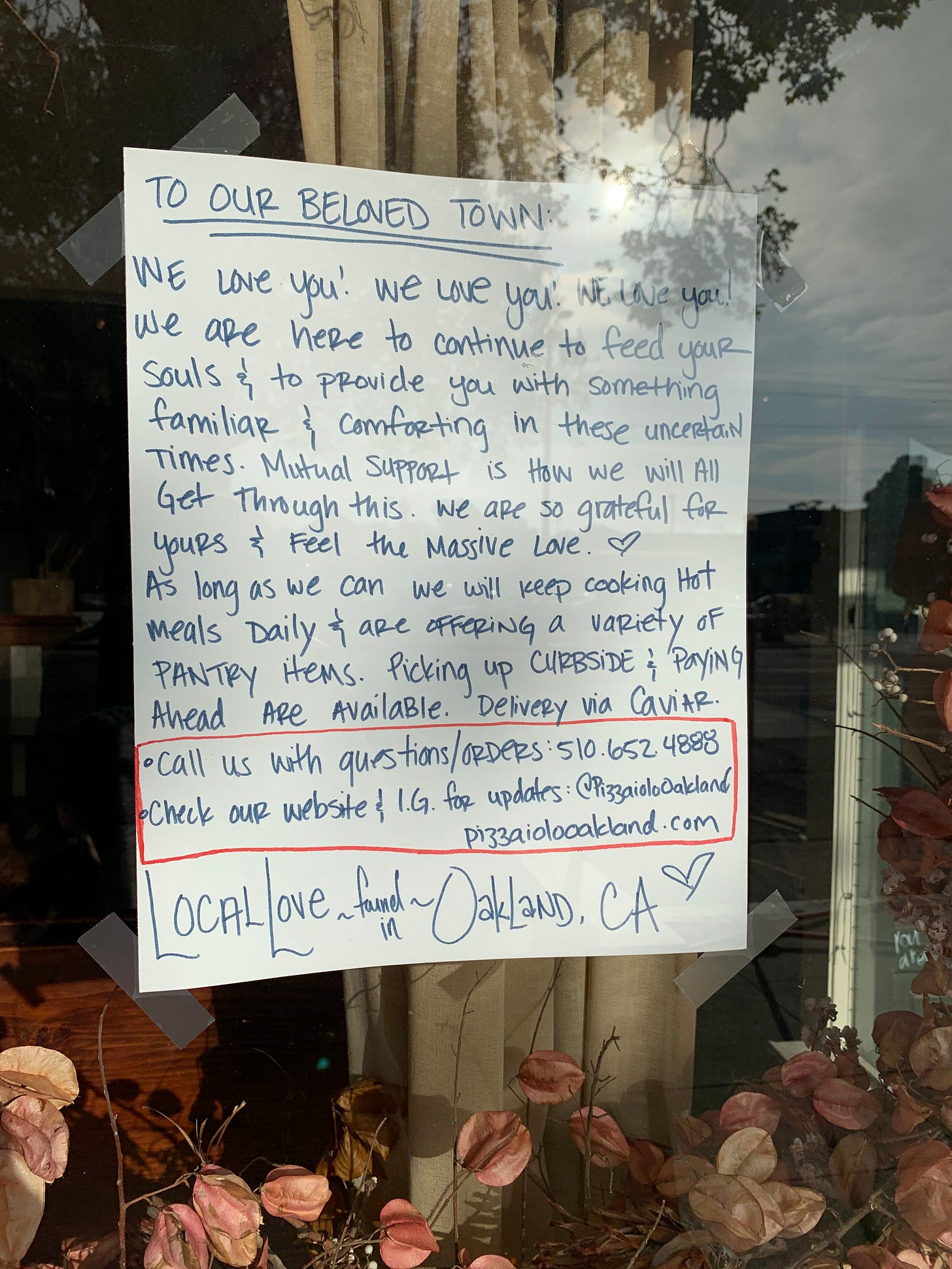 Bounty Hunter in Walnut Creek is offering dinner packages like the Campfire Dinner Package ($49 which includes ribs, pork, brisket, chicken and cornbread) - plus they have wine and cocktails to go so you can get a taste of their wine-country favorites.
Viridian, the cool, neon-y uptown oakland bar is offering loads of cocktails to go, plus snacks like steamed pork buns and earl grey chocolate chip cookie dough because that's where we're all at right now.
Chez Panisse - On the healthier side of things, Berkeley's farm-to-table institution is running a CSA and pantry program to support Community Alliance with Family Farmers. Visit their site to place your orders and make a donation.
Nido's backyard - I'll be honest, back in Jan when I was still naive, I started a "spring is sprung" edition of the east bae and had it all queued up and ready to go with a full roster of places to hang outside, and Nido's super colorful backyard spot was top of the list. But for obvious reasons, that's on the backburner now. That doesn't mean you still can't enjoy their tacos and margaritas. The popular Mexican spot is offering a robust menu with family-sized meals for four and cocktails to go for six. You can phone it in or get it delivered via Caviar.
Lastly - if all else fails, you can just drive to SF. There is zero traffic. It will take you <15 minutes and its nice to see the water. You can order takeout from places like Aziza (get the "take and bake" basteeya) and North Beach's Tosca (chicken dinner for sure), plus Hayes Valley hotspot A Mano is running a very sterile operation and selling pasta by the pound, 50% off wine, to-go cocktails and more, daily from 12-8.

And as always, a reminder that many people in our community need support to feed their families. Please consider giving what you can:
And that's all folks.