Tacos to try: tacos el patron
Today we have three things to talk about, two are about food:
Most important of all: tacos.

Are Boichik bagels worth the hype and lines?

New media in Oakland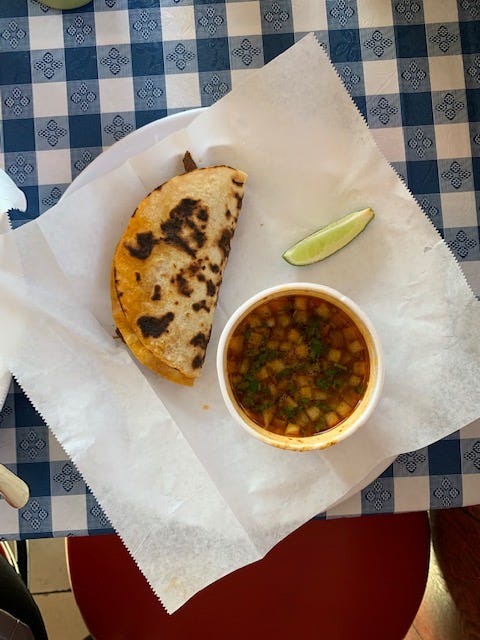 Regarding tacos:
One of our most read posts here at east bae is called Tacos to Try; the first edition of which we discovered a beloved tortilla factory in Concord and took a closer look at the history of crispy tacos. Tacos to try v2 went far out to the Richmond to a tent in some random residential neighborhood's driveway whose food handling licensing status was highly questionable, but it didn't matter because we had to get a taste of their Birria tacos. That particular taco spot now has plans to open a full restaurant and Eater did a nice deep dive on them and Quesabirria tacos last week.
Today we're taking a visit to the original Tacos El Patron in Pleasant Hill. You may have heard that a new El Patron location just opened up in San Francisco and food critics seem appropriately very into it.
Tacos El Patron
My kid speaks a tiny bit of Spanish. She basically uses all english words and phrases except for her most basic necessities. Like a tiny spanish-speaking prisoner in our home, she can request "agua" (water), "pan" (bread) and "mas" (more). She also says "taco", but I'm not sure if that counts. When we walked into Tacos el Patron in Pleasant Hill the other day, she saw a family sitting together eating tacos and she called out to them: "tacos?" They all smiled at the talking baby.
Yet to her surprise, none of them offered up their tacos. She first looked confused then disappointed and began to plead with them "tacos! please! tacos?! please!".
It started out fun, and then as things with small children with not-yet-fully developed prefrontal cortexes go - it started to get chaotic. So by the time we got to the counter, I tried to order as quickly as I could to calm the kid's despair. We somehow ended up with 8 tacos, a quesadilla, a chorriqueso and a burrito. I feel like I had a restaurant-critic sized sampling of the menu and thus qualified to tell you about how damn good these tacos are. But let's first start with a little more about what this spot is like.
Tacos el Patron is in a relatively unassuming, low-slung strip mall on Monument Blvd adjacent to a gas station with a car wash, and directly next to a store cryptically called "Lingerie, etc", which has blackened windows so you can't actually find out what the "etc" is without going in, which we did not. Tacos El Patron, however, has windows so you can see inside and feel comforted by the typical taqueria decor of brightly colored curtains, maybe six tables, high chairs and two flat screen tvs. They play ranchera music and there were people of all-ages eating and working there. And sometimes both.
They have an extensive menu for a taqueria, with everything from enchiladas, to quesadillas, all the parts of the animal tacos, and accouterments like frijoles and agua frescas and the such. They have incredibly juicy birria tacos with shredded beef and a flavorful dipping stew. And they really excel at the al pastor in both taco and burrito form. And best of all - there is a woman hand-pressing flour tortillas to order. These accompanied my chorriqueso (hot pink chorizo + thick queso in a mini skillet), and while if there is ever queso or fondue on a menu, I'm guaranteed to order it, I will say the cheese is the only dish I'd pass up next time from our massive over-order.
Lastly - they offer four salsas in squeeze bottles and there's an orange one that looks creamy in color and I foolishly thought would be mild - but it turned out to be full on habanero. The only thing that saved my burning tongue was a creamy Horchata. I don't usually go for milk-based beverages, since I'm not 5 years old, but this was so flavorful with the perfect amount of cinnamon and vanilla. Best I've ever had. Tacos El Patron is certainly worth a visit - and if you're in SF - check out the new one in the mission and report back.

boichik bagels - worth the hype?
More than a year before they opened, Boichik bagels started receiving lots and lots of hype about having real NY-style bagels in California. In fact their tagline is "there are no(w) good bagels in california". I'm a bagel connoisseur, I grew up back east, I live on carbs and I make my own at home. I've been eagerly awaiting the arrival of this shop for over a year, partly because I wanted to finally have good bagels close to home, but also because I thought maybe they wouldn't be and I could continue living my life as a west coast bagel snob. So when they finally did open, I was of course dismayed to see that the line for the bagels was considerably longer than Beauty's bagels, stretching more than two blocks on a recent rainy weekend.
Thankfully, one day before work, the line was only ten or so people long, and as much as I bemoan when privileged people stand in food lines when there is no food scarcity, I felt it was my duty to report for you all. So I waited. And … the bagels were worth the damn wait. Not only that but they had the best cream cheese of all: a homemade Horseradish Cheddar Scallion. I think the older I get the more it takes to really shock my tastebuds, so an everything bagel with a horseradish and onions cheese spread is a perfectly acceptable way to start one's day. Sure. They carry a few varieties of cream cheese from green olive, to roasted garlic & artichoke, and classics like veggie and chive. They have smoked salmon and pastrami lox in a cold case and - as is now a new business in the bay area tradition - they have an elaborate looking coffee machine. I probably won't line up again unless its 5 people or less, but if you have no qualms about it, hop on line. They're open every day except Mon and Tues, early in the a.m., until sold out.
Very few places out here actually understand what constitutes a good bagel and Emily Winston at Boichik took the time to get it right.
[ed note: please send your recommendations for your favorite food non-profits and I will pick one and donate $20 for every minute I stood in line to wait for bread with a hole in it].

New Media
And finally - when I started this newsletter I noted the slow, painful death of east bay media, despite the vibrancy of the region. Seems Google got the memo, they just announced a $1.56M investment in a new Oakland media outlet as part of the Google News Initiative. More here on Axios. Hopefully this will bring the strong, local reporting we all need.