6 weeks down
We've been sheltering for who knows how many weeks, and by now you have either fully reverted to your pre-modern instincts and gone back to your most basic procurement and survival skills — or you've gone full end-of-days mode and are living it up by polishing off the last of your fine wines and having cakes for no reason. If you're in the former camp, then you're probably cultivating sourdough starters, pickling veggies, foraging for mushrooms, planting and drying herbs, regrowing scallions (?!), and exerting the privilege of having the time to do these things.
On the other hand, some folks are YOLOing the heck out of this crisis and going extremely gourmet and snapping up michelin-starred meals, indulging in their vices and kicking back at home without a care in the world.
I've surrendered to both sides of these pursuits - baked my own focaccia, planted tomatoes and herbs and I check on our cherry tree daily waiting to harvest its fruit before the birds do (I know all the local birds by name now too), while simultaneously ordering overpriced cocktails and dinner-to-go and making donations to every covid-cause I come across. So whether you're surviving or thriving during this pandemic, a few of the latest local things to consider:
Doomsday: if you sense the end is nigh and are going deep on your hedonistic last wishes by seeking the finest foods you can get your dry, purelled hands on - then Tock should be on your homescreen. The upscale reservation booking service made a quick and impressive pivot into cajoling the best high-end restaurants into offering their gourmet meals and dinner packages to go. Peruse their listings which include places like 3- Michelin-starred Atelier Crenn and even Saison offering multi-course dinners for pick up, San Francisco classic Boulevard has a fresh selection of meal kits, plus you can get takeout from Akikos, one of the best seafood and omakase restaurants in the city - or the very gourmet Japanese American steakhouse Alexander's which is selling 7lb (!) prime rib family dinners to finish off at home.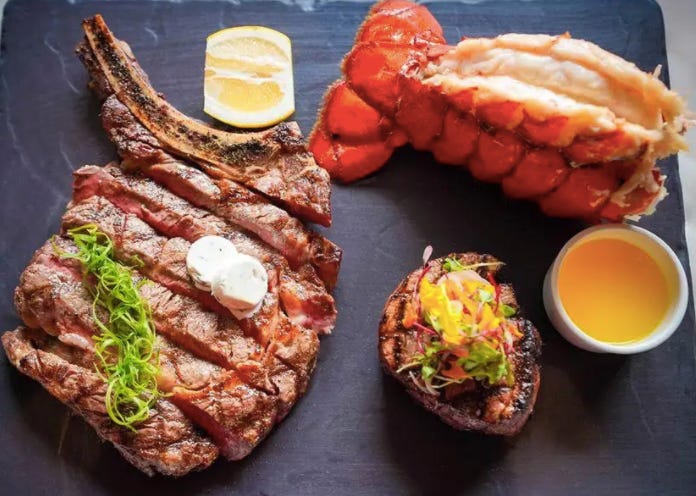 If you prefer your indulgences in liquid form, then try Family and Friends Bar - which was one of the most anticipated new bar openings of the year. You can order cocktails, snacks and cake (!!) to go and run a friends and family happy hour at home — though it will probably just be your immediate family, otherwise everyone in masks with a healthy six feet of distance.
One of my favorite east bay restaurants - Comal announced they are finally open for takeout via their spot Comal Next Door - including most important of all: margaritas. Every few years Cinco de Mayo falls on Tuesday (aka Taco Tuesday) so next week is the time to celebrate and support your local businesses. You can find Comal on Caviar for pick up or delivery and a few other spots to indulge in Mexican food: Nido's (fancyish), Xolo in Uptown, Rico Rico on Lakeshore and Obelisco in Fruitvale.
If you're on the other side of the spectrum and living more "little house on the prairie" than "la vida loca", you're probably on the look out for yeast, flour and home gardening supplies. Seriously, what has this newsletter turned into? Remember when we talked about being lazy and spending idle Saturdays sampling food at farmer's markets? Now it's like an episode of Supermarket Sweep every time you go to the grocery store; trying to grab as many oversized, high-priced pantry items as possible (get the coffee, always get the coffee) without touching any fellow patrons.
Flour is one of those things that is tough to come by these days, and even harder, is yeast (which is why everyone is growing their own starter). So if your local supermarket is sold out, I'd recommend checking out your nearby restaurants. There are places like Bartavelle, which is selling supplies from their Annex (get the Za'atar), Pizziaolo which not only has some of the best pizza but they also have healthy portions of yeast and flour to go, Hopscotch in uptown is stocked on pantry supplies, Fava in Berkeley, and 4th generation-owned Ratto's downtown just reopened and will have all the Italian sandwiches and dry goods you need.
For Gardening supplies, East Bay nursery in Berkeley opened for business in 1926 and was a resource back when people actually needed to plant victory gardens - so they are remaining open (with limited hours) and allowing people to shop, so long as they are wearing a mask. McDonnell nursery between Orinda and Moraga is also offering people the opportunity to schedule an appointment but the windows are very limited and same with Orchard in Lafayette, which has very detailed instructions on their website that I simply can't be bothered to read.
Some other things to do:
Want to learn of more places to order food in? See our big list of where to order food in the East Bay during the shelter-in-place.
Feeling blessed and want to give back to others? Here are a few local organizations we've previously mentioned that could use your time and help:
And that's all, folks!