suburban swing
This week a whole bunch of CEO's got on board with the idea of workers being able to stay remote and work where they want. Forever.
I've long been bullish on the suburbs and rural areas — but I imagined that the impetus for people moving to greener, grassier pastures would be due to the arrival of driverless cars which would make it faster and easier to get around — not necessarily a global pandemic. Throughout history there's often a pendulum swing on ideas - whether motivated by new information (the world went from flat to round and now a whole set of people recently started doubting this again for whatever reason), education (often exhibited through fitness trends or best practices on child rearing), agricultural lobbying (remember the grain-filled food pyramid?!) or a rebellion against previous generations (this usually comes through in fashion, the 90s are back, for example).
The suburbs boomed in the 50's but cities have been on the move for decades with real estate prices reaching absurd heights as more and more young people flock to urban centers. But it seems the scales are about to tip back in the other direction, as young people are earnestly talking about communal living with friends and family with complementary skills, have already started basic farming and homesteading practices, embraced caring for indoor plants and seem to be yearning for more S P A C E - amid the pressure, intensity and general unpleasantness of city living while sheltering-in-place. This feeling is especially acute here in the Bay, where real estate prices are just beyond, but with companies now saying now that anyone can work from anywhere, this might change the conversation from how can we make cities more accessible, affordable and green - to how can we make suburbs more like cities?

I don't think anyone wants the spread out strip mall (or mega mall) suburb full of empty paved parking lots where you drive from place to place just to grab a coffee. Today's young people want the benefits of greenery, safety and space with accessibility and commerce. I've had my eye on the sleepy and charming cities Martinez and Benicia - as potential east bay mini-cities ready for growth. It may be because I grew up on the outskirts of a rust belt city, but when I see a charming, yet sparsely populated downtown area (particularly in the case of Martinez), I can't help but romanticize the past heydey and imagine the future potential. Maybe all of California could become more affordable and accessible, if we're able to better utilize the spaces we have?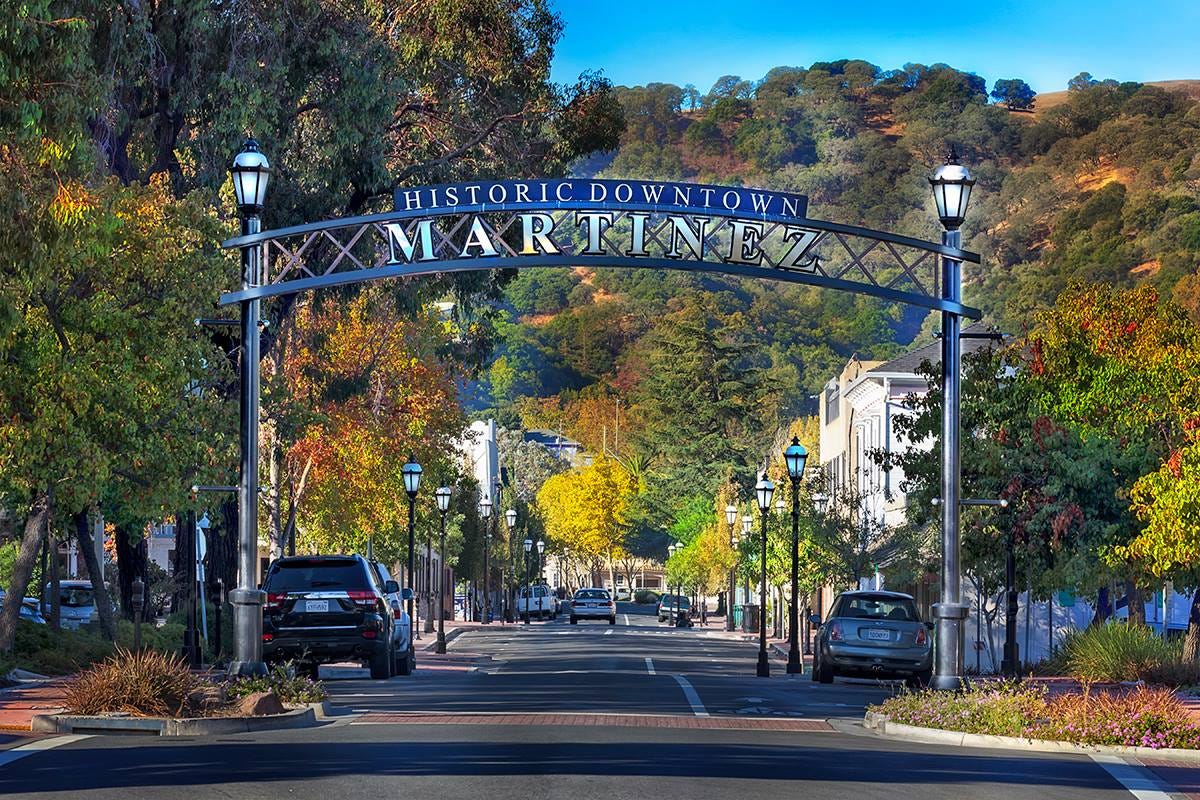 (Photo from Martinez News Gazette)
As anyone that has lived in a city long enough knows, urban neighborhoods that are about to turn always start with a hip coffee bar and Martinez is home to one of my favorites (State's Coffee) and has a flat, pioneer-town feeling downtown, with brick buildings, a lot of antique shops and emerging energy. Benicia has Farm & Flour, a wonderful local bakery where you'd find young local families and long-time residents, if we were still allowed to go out. (I should note that both places are offering take out and delivery). In both areas, residents can walk or bike to their homes and still access major freeways within minutes and even hop on a train to Sacramento. In a place as spectacularly beautiful as California, access to nature has always been important (John Muir even lived in Martinez) but in these trying times we realize even more how much more a sense of community matters. Now we just need the restauranteurs to get the memo that their pricey leases might not be worth the price and as the world opens anew, come east, dear friends.
If you could work from anywhere — would you move? Where would you live?
Now onto the goods: