3 things to eat this weekend
There are little things I miss in all this. I miss travel, mostly. The way that when you land in a new place and the second they open the aircraft door you immediately sense the humidity and smell of a new place. Hawaii and Florida smell similarly - that sticky, salty, slug of warm air. Other cities smell of trees - cypress or pine or eucalyptus - some air is denser than others, some feels immediately dry at certain altitudes.
I miss wandering without aim. Now, every outing seems to have a purpose and feels more like I'm on a mission, than on a curious meander letting the wind or my eyes take me.
I miss simple, forgotten things. Like pastry displays at coffee shops. The way you could just stand in front of a counter and peacefully take your time to decide which sweet or savory treat was most enticing. I think occasionally of Sightglass Coffee on 7th in San Francisco, with their display pastries just sitting freely on a slate - out in the open air for anyone's body movement to gust air upon or anyone to gently, carelessly gesture over. What a reckless time to be alive. It was.

1. At Crispian bakery in Alameda, the tiny neighborhood favorite that used to cram in regulars clamoring for their pastries and bread, you can now find just an open window and folks lined up at six feet markers on the sidewalk. There's a newish poster board of what to order with some grainy images that will never do justice of being surrounded by the wafting smell of crisp gluten. So instead, one is left imagining, guessing, what possibly could satisfy that early morning hunger. Even without pastries directly in front of you on display, the favorites still find their way to popularity - and one of mine ends up crossed out on the chart. But no matter, because you won't have a bad bite here. Please go to Crispian and know that you really don't have a choice - you have to order the everything seasoned croissant pinwheel with ham and grain mustard. It's flaky, savory, crispy, yet soft. Just a pure indulgent marvel of pastry perfection. You might think it's too much, that a pastry is just meant to be a snack, not a whole meal, but I disagree. And if this beloved favorite is sold out, you'd be lucky to try the jalapeno cheese croissant. I'm a savory snack person - but they bake all sorts of sweet treats too - sticky buns, lemon tarts, ginger cookies and cakes - many of which they stock at Diablo Foods in Lafayette. Plus, you can also find Crispian at many local Farmer's markets on weekends.
2. The second thing that you have to eat this weekend is the burger from the Kon-Tiki. It's the only burger I'm consistently thinking about and dreaming about and I know I've mentioned it to you before but I must again. It's two smashed patties and they're somehow so so so flavorful. They get their meat from Oakland-based Cream Co - which all the best spots seem to do. And Chef Manuel Bonilla has concocted an on-brand-for-a-tiki-bar Pineapple Onion Jam that adds just the right amount of sweetness and umami without overtaking the meaty cheesy goodness. I know, you might think fruit has no place on a burger, but you have to trust me, it works. This burger should end up at the top of a best burger list and bring people from all over the country to travel and try it. I know, because I've eaten a lot of those burgers in my years and I've also eaten a lot of Kon Tiki burgers. The photo doesn't come close to justice.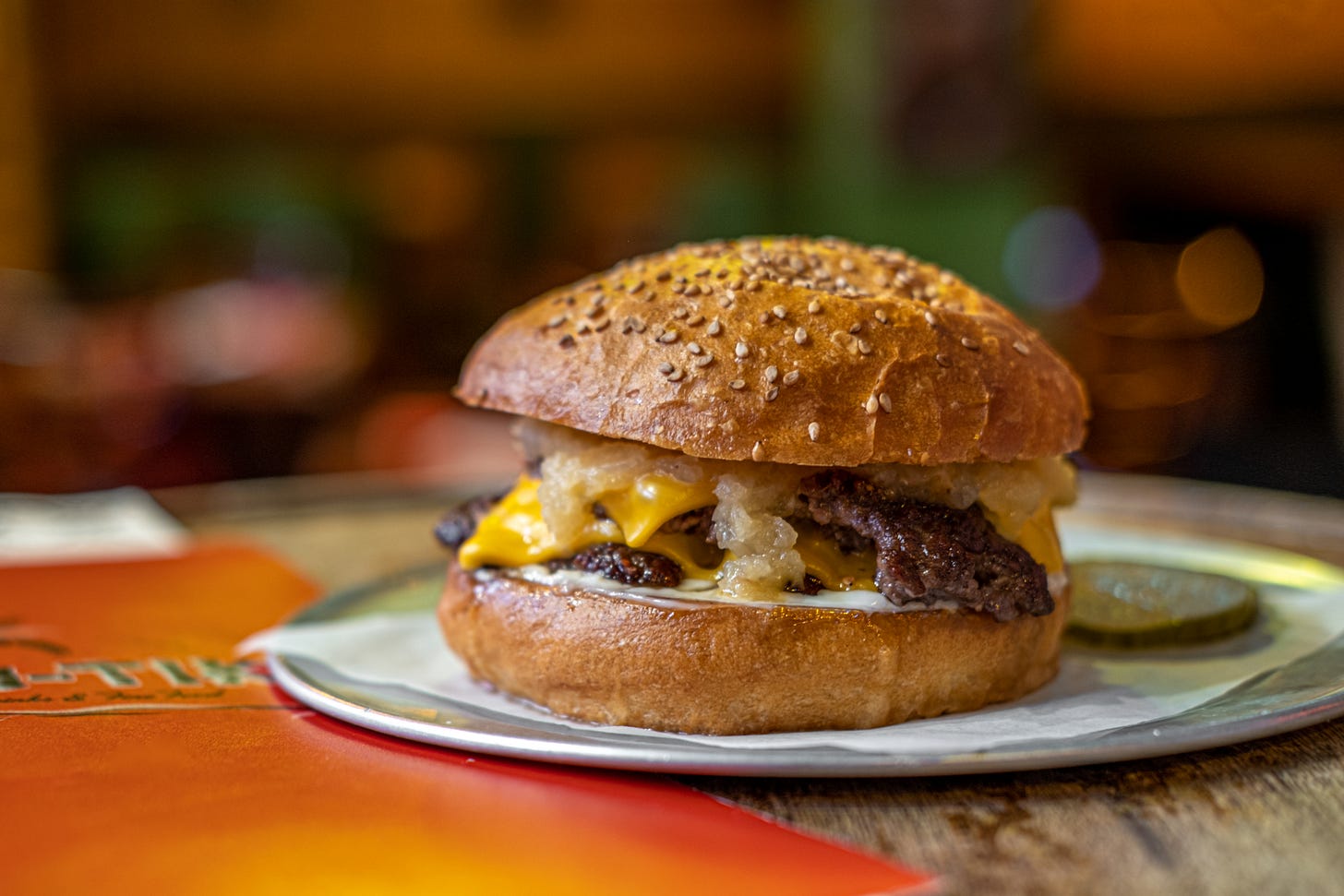 If you go to Kon Tiki to sit outside, or order online and eat at home, the only thing you should focus on ordering is the burger, but if you do decide to deviate and or add on to your order - they have wonderful seasonal offerings with a regularly changing menu. I just had a delightful fresh fig, feta and honey dish as a starter — and they offer other promising sandwiches like a Loco Moco, Shrimp Burger and a spicy fried chicken - though I can't bear to waste an entree trying something other than The Burger, so I can't tell you how they taste. And their tiki cocktails come from the charming mixologist and owner Christ Aivaliotis. So do order yourself a batch. And throw in a frozen uma uma too.
3. The town of Orinda has been keeping a secret — not just that it's actually a surprisingly progressive enclave dressed in country club clothes — but that they have an incredible Indian restaurant. Saffron Indian is right off 24 and a short walk from the BART - with a relatively wide ranging menu that includes northern Indian classics plus a few southern dosa dishes, Biryani and a kid-friendly menu. With over 30 years experience as a Chef Amrit Lal Sharma and Renu Bala Sharma own the two-year old Theater Square restaurant and reportedly moved to the Bay Area after their son moved here for a role in tech. Saffron makes each dish to order so you can dial the flavors up and down depending on your ability to handle spice intensity. Family-run Saffron has outdoor seating and is available on Doordash for pick up and delivery.
Other food news:
Lastly - there's a drive-thru haunted house at the Alameda Fair Grounds - ten acres that you can drive through with your family to still feel the thrill of a haunted house on halloween. The Chronicle went to check it out.
Have a great weekend, everyone!