we're still here
Something I've been thinking about a bit are the last few adventures I had pre-lockdown and how fortunate we were to see and celebrate with friends and family before we'd go into isolation for months.
One of my last pre-shelter memories was of an incredible dinner at Ramen Shop in Oakland in their special private karaoke dining room. It's speakeasy style - the walk-in refrigerator sized room is accessible by passing behind the bar, through a service kitchen and opening up one of the doors of a locker — to find it pulls open the whole wall of lockers — where you enter a small space with a dining table at the center and booth like seating around the whole perimeter. The lights are dim and there's an ipad on the table and a microphone in the corner. The menu was a robust, multi-course pre-fixe, so you don't have to make any decisions and to spare you the embarrassment of an audience while you sing — the servers pass food through a small door.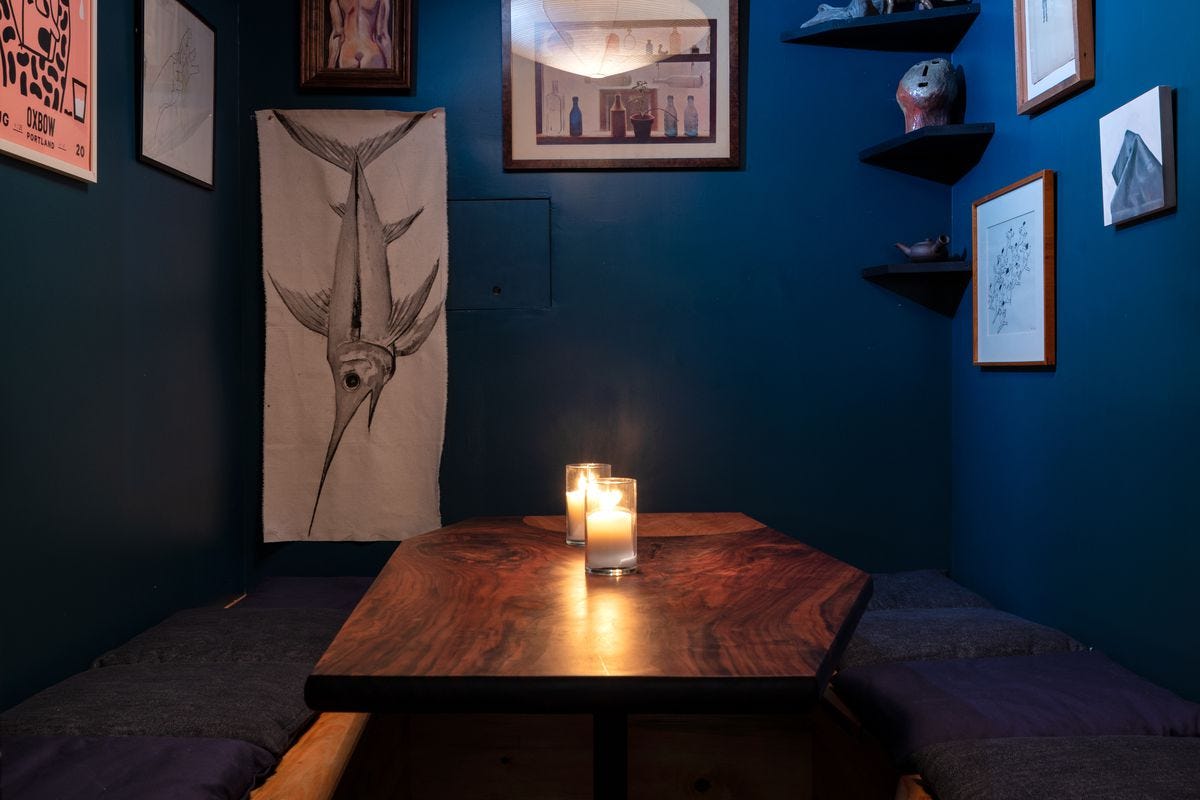 (pictured: Ramen Shop's private karaoke room)
We didn't know it at the time — but this would be one of our last meals out in an actual restaurant. And what we really didn't know at the time - eating meals only with immediate family and not being able to see the faces of the staff would end up being the way that everyone would be dining for months on end.
A bright spot now though, is that the aforementioned restaurant Ramen Shop is now finally offering their Ramen to go. I plan to grab a bowl and take it into a closet and sing alone just to replicate that last memory.
For other Japanese comfort food you can try Itani Ramen in Uptown for takeout, they're selling fancy Japanese whiskies to go - and they also have a specialty sushi shop within called Nikkei Sushi. Soba Ichi is selling fresh cut soba noodles. And one of our most popular posts here at East Bae was about finding places that feel like Japan in the east bay, so give it a read for more ideas.
Other east bay food news:
Beloved old Oakland Caribbean spot Miss Ollie's is finally back and offering takeout from 12-7, Tuesday through Saturday. Call ahead to place your order or try Uber eats to transport yourself to the islands with their flavorful dishes.
The closure of Uptown Oakland mainstay Flora was a loss, but it's officially been replaced by a shiny new restaurant called Palmetto. Billing itself a "tropical steakhouse" - it's from the same owners of the Kon-Tiki. I was a little heartbroken when I went by this new space - it's an absolutely beautiful and vibrant restaurant, it looked bright, colorful and airy and like the kind of place you'd want to spend an idle summer dinner with friends and family. It's sad to think of the dreams and dollars that people put into designing and developing spaces like this that may not get to be populated anytime soon. But that doesn't mean you can't enjoy the creative vision through the food. The restaurant is offering takeaway and delivery from 4-8 p.m. and a special prime rib dinner every Wednesday — plus they offer batched cocktails to go. I am obsessed with the Kon-Tiki burger and if that's any indication of the food quality, you know this will be a hit. Check out Palmetto's takeout menu and give it a try - let me know what you think!
I know in previous editions I've told you to try some san francisco restaurants too for a change of pace, but I'm sorry to say, the traffic is back. Its not 4:45 p.m. on a Friday traffic, but its traffic no less. When I hit a slowdown, I got a sort of queasy feeling thinking about how much of my life I'd wasted sitting in the car the past few years. A decade ago it would take 15 or so minutes to get anywhere and up until the pandemic the traffic kept worsening and worsening until somehow we all normalized these hour-long, LA-style drives around the Bay. I'm so curious what life will be like on the other side of this, but a recent report in the Chronicle paints a grim picture, so maybe we should stay local forever.
But before the traffic gets too bad - a quick little secret: on Saturdays only, State Bird - the impossible to get into California dim sum-style restaurant - is offering a limited amount of prepped meal kits (you have to do the cooking) and staple provisions like their sauerkraut dill butter. Yesterday was their first offering and somehow I got my hands on a batch and it was unreal. They don't say how many people it can serve, but we didn't even cook it all, but I'm guessing 4+. They'll be offering pre-orders again for next Saturday for $120 and this week featured a beef coulette from Oakland-rooted Cream Co meats.
Lastly - in other gourmet food news - Commis Restaurant - Oakland's only two-michelin star spot is taking order on their website and via Resy. The menu will change weekly and will be $90 for dinner for two. They're saying their meal numbers are limited by the quantity of bread they're able to bake daily - so check in early!
But before you go — some other good east bay news:
Work from home has been a pain in the butt for a lot of people with kids trying to manage online classes on top of their workload — but what about kids who don't have access to a computer or even home wifi — and kids whose parents need to go to essential jobs like nursing and grocery stores and can't stay home and lend them their phone to get online? Oakland Mayor Libby Schaaf tapped Jack Dorsey who continues to show his values by putting his wealth to work during this crisis. He just made a $10M donation to give every student in Oakland a laptop and wifi.
For more tips on things to eat, see and do in the east bay, catch up on past shelter editions: